Join the team!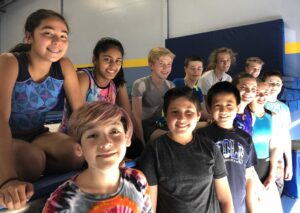 Our team travels all around the country, competing with all the best trampolinists and tumblers in the USA. Springtime draws its team from classes, but if your child has experience they may be able to go directly to the team.
Our team competes on trampoline, double mini trampoline, and tumbling. There are 15 levels in USA Gymnastics Junior Olympic program. We don't compete the first 2, (too easy.) We have athletes in all levels, 3 to Level 10. The top 5 levels are elite levels, We have a few athletes going elite. They are awesome.
The most important thing needed to get on the team, is desire. The team is made up of athletes, coaches, and parents. Each has a role to play and needs to be willing to contribute.
If your interested in joining the team, call us! Or just talk to your coach about it while your at class.